WE MEASURE SUCCESS IN YEARS AND MILES
Our team is building an enduring legacy of finely crafted truck bodies that began in Gallatin, Tennessee in 1970. With decades and miles in the rear-view mirror, we're forging into the future and continuing to craft the highest quality truck bodies on the market.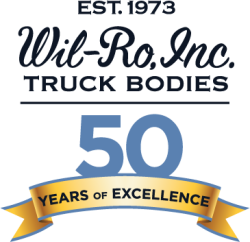 1970s
OUR FOUNDATION
Our enduring legacy of finely crafted truck bodies began in 1970 on a small farm off of Cages Bend Road in Gallatin. Two brothers, William and Roger Anderson from Williamsburg, Indiana, built their first cattle trailer for a customer in Hartsville, Tennessee. Before long, members of the community were interested in purchasing their sturdy trailers, and over the next three years, our business began establishing its roots.
In 1973, Wil-Ro, Inc. was incorporated, combining the first names of the company's two founders. Wil-Ro's growth began with a focus on manufacturing horse trailers, farming, cattle, and equipment trailers, starting gates for horse racing, and horse walkers. The company's first factory was located on Locust Street in Gallatin. The decade also marked the company's first two dealers of the Wil-Ro brand – Anderson's Service Station in Williamsburg, IN and Lucas Equine Equipment in Cynthiana, KY.
1980s
BUILDING A LEGACY OF CRAFTSMANSHIP AND QUALITY
Manufacturing continued to thrive on Old State Highway 109 in Gallatin, TN, where the factory was moved in 1979, and still resides today. Truck bodies, gooseneck trailers, and larger-scale horse and cattle trailers defined the company for the next decade. Our reputation also evolved throughout the '80s as a manufacturer known for crafting the highest quality truck bodies available.
1990s
EXPANDING THE PRODUCT LINES
Throughout the 1990s, Wil-Ro shifted its focus from manufacturing full production cattle and horse trailers to expanding its product lines with new offerings. Fabrication for truck bodies, dump trailers, and roll-off boxes was underway and beginning to fill much of Wil-Ro's factory. By 1998, Wil-Ro had ceased production for its cattle and horse trailers. The following year, a Wil-Ro trailer was used in the Hollywood production of The Green Mile. The decade also saw the introduction of the Landscape Truck Body Series and Wil-Ro joining the NTEA (The Association for the Work Truck Industry).
2000s
A FOCUS ON TRUCK BODY MANUFACTURING
With the new millennium, Wil-Ro continued growing to better meet its customers needs. By 2004, truck bodies became the sole product for Wil-Ro, solidifying the foundation for today's company offerings. Wil-Ro manufactured the Trail Hauler brand during this decade, custom upfitting Freightliner commercial trucks with high-end truck bodies and custom interiors. The decade also saw the start of Wil-Ro manufacturing its Flatbed Hauler series at full scale as well as Wil-Ro's first international customer in Scotland.
2010s
SKIRTED AND UTILITY HAULERS INTRODUCED
During this decade, Wil-Ro continued to focus on truck body manufacturing and the development of additional offerings for the Hauler Series. With the introduction of the Skirted and Utility Haulers, Wil-Ro continued to grow its reputation for versatility and performance. This period also marked Wil-Ro's partnership with its first two Tennessee truck body distributors – growing our brand with two other well-known and respected brands in the commercial truck industry.
PRESENT
LOOKING TO THE FUTURE
As technology continues to transform manufacturing and the workforce, Wil-Ro remains deeply rooted in our commitment to craftsmanship, quality, and the role of human hands in every step of the process. We continually improve our designs and maintain ongoing training to ensure our highly-skilled team and our products rise to the highest company and industry standards. Our knowledgeable team and dedication to finely-crafted truck bodies are at the core of our brand.
Today, Wil-Ro truck bodies serve multiple industries throughout the United States. Our world-class vision seeks to consistently grow and improve our team, distributor network, community and nationwide brand. Join us in our journey of continued innovation and new product development as our focused efforts expand day by day with like-minded teams.