AMERICAN MADE

VETERAN OWNED
The Premier Truck Body Manufacturer
We Measure Success In Years And Miles
Our team is building an enduring legacy of finely crafted truck bodies that began in Gallatin, Tennessee in 1970. With decades and miles in the rear-view mirror, we're forging into the future and continuing to craft the highest quality truck bodies on the market.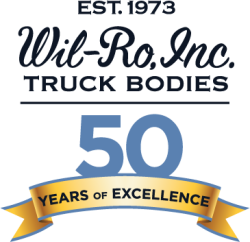 SEE OUR FULL HISTORY
FOUNDED ON THE AMERICAN DREAM
Innovating Since 1973
Manufactured and crafted with skilled precision, Wil-Ro crafts the highest quality truck bodies in America.
With decades and miles in the rearview and still continuing to grow, Wil-Ro understands you and your business needs.
Watch video
Intelligently Engineered Truck Bodies
Forged In The Fires Of The American Spirit
Wil-Ro truck bodies are designed to anticipate your needs and are built to last. With boxes customized for your tools, removable dovetails, and multiple other features available, we understand the way you work. We engineer everything you need to be at arm's reach – we've been doing it for nearly half a century.
Find a distributor
Wil-Ro is one of the few companies that still do what they say. They build good products with a competitive price, great people.
"We have been doing business with Wil- Ro for the past few years, and their products are top-notch! They have met or exceeded our fleet customers' expectations. Always completed our upfits in a timely manner. If you are not using Wil-Ro, then you're missing the boat!"
"At IP Truck, we look for partners that have high-quality products, provide exceptional service, and help us in meeting our customer's timelines. With Wil-Ro, that is exactly what we've gotten—they are easy to do business with, and their bodies are outstanding!"
"You guys did an awesome job on my truck bed. I really like the detail you put in it. I am delighted!"
"I would highly recommend Wil-Ro. I have been doing business with them since 1994 and what they do is good work, and it shows through Middle Tennessee. They have put two gooseneck plates in my truck, and my family has several of their trucks."
"Wil-Ro has gone above and beyond for me. I have an older flatbed of Wil-Ro's, and I had a fender that was dented a bit, and I wanted it replaced. Wil-Ro sent me a set of fenders, but they were from a newer model flatbed. Most manufacturers would have likely said, sorry, man, you have an older model that we no longer have parts for, but Wil-Ro made it a priority to find the ones that work, and I appreciated it. Thanks for the help and Wil-Ro for going above and beyond to take care of a customer."
"I just can't live without my Wil-Ro truck bed, whether it's on the ranch or running my landscape construction business. And it is great to know it's made locally in Tennessee by a company that loves God, Family, and Country!"