FACTORY TOUR
Look under our roof and learn how Wil-Ro turns sheet metal into the best truck bodies on the road. We welcome visitors to meet the faces that have forged Wil-Ro in the fires of the American spirit. Come and learn what makes our team and products special.
INNOVATING SINCE 1973
FOUNDED ON THE AMERICAN DREAM
Wil-Ro is American-made and veteran-owned. Get a glimpse the processes and the hardworking hands that build our truck bodies with skilled precision.
Stop by our factory in Gallatin, Tennessee and check out what we are working on to serve the work truck community.
Watch video
DESIGN
Each Wil-Ro truck body begins with understanding the problem you need solved. From there, your solution is custom-designed using the latest drafting and modeling software. At every step of the process, Lincoln and his team account for your unique needs, which are included in the comprehensive design.
"Using information from our sales team on our customers' needs, specifications, and industry segments, I utilize CAD design tools to create and visualize the product to ensure our fabricators have accurate information before production begins. Our approach delivers high-quality truck beds that will outperform and outlast any competitor."
Lincoln    | Design Engineer
VIDEO MESSAGE FROM LINCOLN: PLAY NOW
METAL CUTTING + FORMING
The truck body begins to take shape in cutting and forming, where raw material takes form and awakens. Every piece of the truck bed is cut at the plasma table, and all necessary bends are put in place with press brakes. With all the pieces cut and formed, they head to welding and fabrication.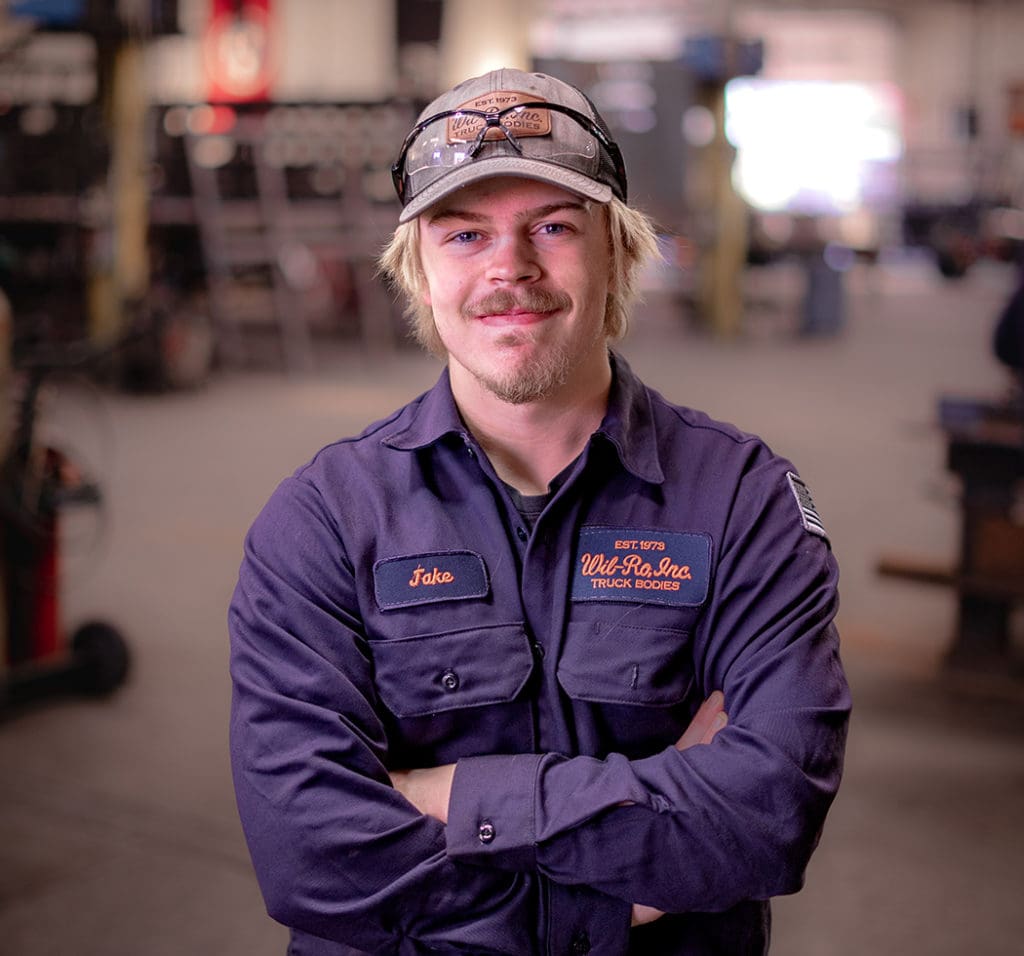 As the Plasma Table Technician, I provide parts to the factory as the first step in building the truck body. Ensuring quality materials are distributed to our welders and fabricators helps me feel confident in our products' quality. I like the freedom I have to make improvements that have a ripple effect through the rest of the company. It feels like I operate my own little business to support the whole.
JAKE    | PLASMA TABLE TECHNICIAN
WELDING + FABRICATION
Individual pieces of metal head to welding and fabrication where Wil-Ro's skillful team brings our truck bodies to life. Fabricating the premier truck body product on the market is in our DNA. Only the most durable and high-quality materials are used to craft every Wil-Ro bed, giving you a product that will last for years to come.
"Working from the freshly cut and formed metals, our team organizes the parts together like a puzzle, welding each component with precision to the highest standards to make sure our truck bodies are the best on the market. At this stage, it's always special to see the raw materials begin to form the actual truck beds, and we take great pride in being a part of this unique craftsmanship."
PAINTING
Our paint application process isn't just about making your truck look great. When our team begins a new coat, protecting your truck is on their mind. We know you need a rugged truck body that can withhold weather and withstand a job as tough as yours.
As the painter at Wil-ro I inspect every bed as it comes through the paint booth to insure proper prep and welds before painting them. I paint everything that is produced at the factory. The most enjoyable part of the process is seeing the raw steel beds transform to a painted bed for our customers to enjoy.
ADAM | PAINTER/BODY TECHNICIAN
PRODUCT FINISHING
Our goal is to ensure that every shipment of truck bodies is ready to install and mount– immediately. From pinstriping, to installing door latches or trim options, to prewiring all truck bodies with light and wire harness packages – we do it all. Let us manage the details so that you don't have to. Our factory-trained experts provide service and support at your location or our's. Partner with one of our highly skilled team members and learn what sets the Wil-Ro brand apart.
In Product Finishing, I make sure all bodies are ready for shipment by completing all wiring and installing lights. I enjoy adding the final touches to all the bodies and ensuring the quality of the body is the best on the market. It's rewarding to know I am a part of making a customer happy.
Derek   | Material Handler
UPFIT / INSTALLATION
Once the truck body is fully assembled, it is now ready to be installed on any model, brand, truck or chassis. Wiring is secured in place using custom-made harnesses. During installation, each bed receives a final quality check from one of Wil-Ro's highly experienced installers. With nearly 50 years of expertise between our lead installers, you won't find a more knowledgeable and passionate team than that of Wil-Ro, Inc.
"My team handles all the necessary accessories and preps the truck body for the chassis installation and delivery. It is our duty to make sure all the right parts are installed properly. I wouldn't send a truck body out of our factory that I wouldn't buy myself, so it's important to me to make sure they are ready for delivery and ready to be put to work."
Cody   | Shipments & Install Team Leader
VIDEO MESSAGE FROM CODY: PLAY NOW
DELIVERY
Let us handle the details – it's what we do best. Logistics is part of the deal when purchasing Wil-Ro truck bodies. Whether we're delivering your truck bodies or arranging and loading shipments of multiple bodies, every detail will be organized and led by our team of experts.
"Once our truck bodies are designed, cut, fabricated, painted, detailed, and installed, I deliver or coordinate delivery to our customers. Whether I'm on the road or at the factory, I take great pride in knowing that our team crafts a premier product from start to finish. Making our customers smile is a pretty great job!"
Barry   | Fleet Coordinator
VIDEO MESSAGE FROM BARRY: PLAY NOW