CRAFTSMANSHIP AT OUR CORE
THE FABRIC BEHIND EACH WIL-RO TRUCK BODY IS OUR TEAM
FORGED IN THE FIRES OF THE AMERICAN SPIRIT
At Wil-Ro, it's not a job – it's a passion for crafting the best truck bodies while leading a premier brand. Our dedication is our pride, and we don't stop working until everyone achieves success. We know our differences are our strengths, and we are confident that you'll appreciate our brand once you've met our team.
Watch video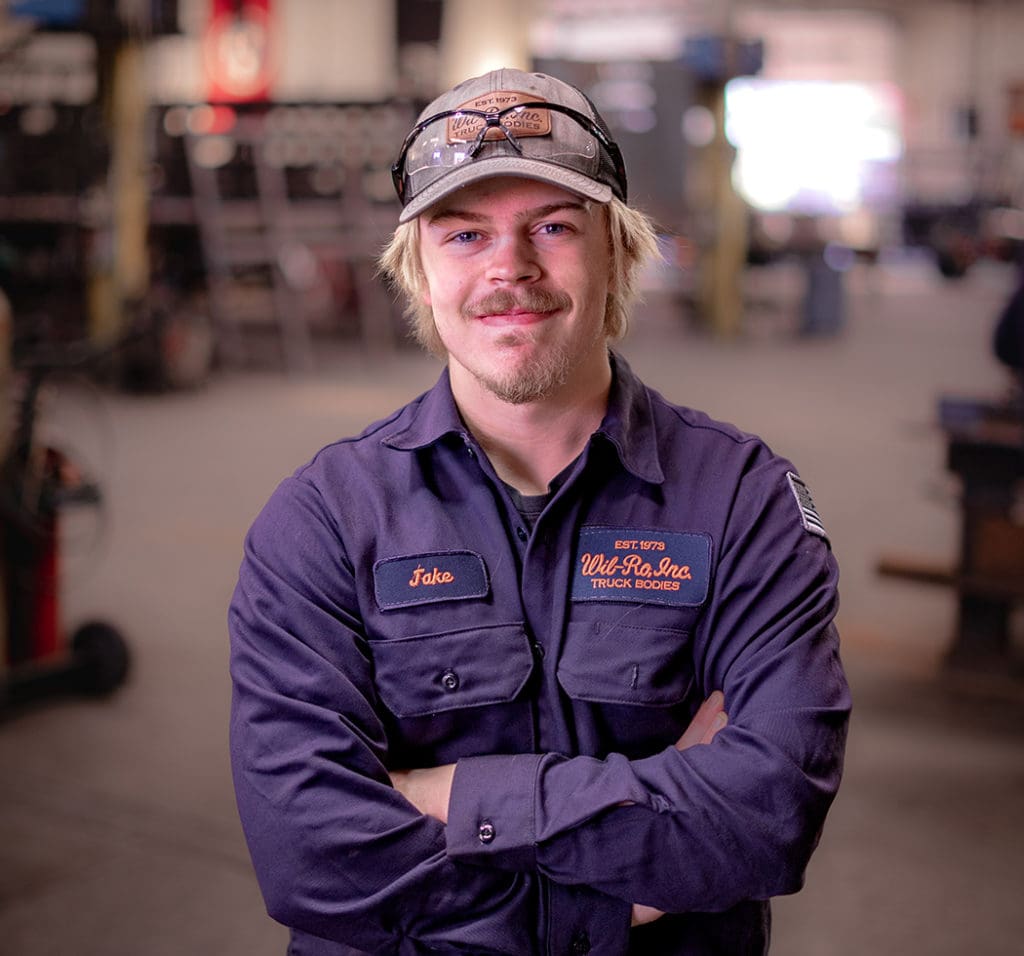 Jake Reveal
Position
Plasma Table Technician
What makes Wil-Ro different?
Wil-Ro allows me to follow through with new ideas and gives me opportunity to grow.
What Wil-Ro Core Value resonates most with you?
Live passionately. I don't believe in doing something you don't enjoy. I found passion in what I do here at Wil-Ro, and most of the time, it doesn't feel like work.
Hunter Templeton
Position
Components Welder
What is your favorite Wil-Ro body and why?
The skirted body is my favorite because of the design and all the parts really make it stand out!
What makes Wil-Ro a great place to work?
Wil-Ro has outstanding people that work alongside one another every day. To the people at Wil-Ro, it's not all about the profit, it's about partnership and great attitudes. These are a couple of the many reasons that motivate me every day to come to Wil-Ro.
Randy Kirkham
Position
Install Technician
What is the most impressive thing you know how to do?
Remember the wiring codes on trucks 20 years old to present.
Favorite childhood memory?
Getting to go to the cattle auction with my father.
Adam Davis
Position
Painter/Body Technician
How long have you been painting?
I've been painting for 12 years. After I graduated Nashville Auto Diesel College, I got a job painting at a small dealership and haven't stopped since.
Who is your source of inspiration? Why?
My kids are my inspiration. I enjoy getting to show them all the vehicles, signs and now truck beds I've painted over the years.
Derek Dies
Position
Material Handler
What do you love about your job?
I love being outside, driving the forklift, and being able to interact with new people daily.
What is one of your favorite memories at Wil-Ro?
One of my favorite memories is getting Team Member of the Month my third month here. I also enjoy getting to talk and joke around with big Jim on the daily!
Dylan Leath
Position
Fabricator
How did you get into welding?
I got into welding when I was in high school. My uncle welded and I thought it was cool so I started taking welding in school.
What is one of your biggest goals in life?
One of my biggest life goals is to work hard so I can send my daughter to college one day.
---
JOIN THE WIL-RO TEAM
Wil-Ro's team members are skilled and proud of it. We're eager to use our expertise in providing value and impact for customers as well as our community and colleagues. Just like our truck bodies, we're dependable, steady, and we don't give up. Sounds like you? Apply today for a position on our team.